Project, GIS education, and GIS-related internal and external meetings, events, and announcements are listed in this calendar. If you would like for us to list your event, please
contact us
. The
meeting minutes
for previous meetings are available from the
document archive
.
The calendar was last updated on May 29th, 2009.
Upcoming events
There are no scheduled upcoming events. If you know of an event or would like to suggest an event please contact us at shepardj@rohan.sdsu.edu.

Past Events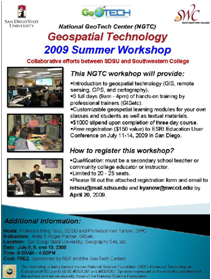 This 3 day workshop introduces particpants to geospatial technology (GIS, remote sensing, GPS, and cartography).
Date
: July 8,9, and 10, 2009
Time
: 9:00AM - 4:00PM
Where
: San Diego State University, Geography SAL Lab,
Storm Hall 338
Hosts
: Professor Ming Tsou, SDSU & Professor Ken Yanow, SWC
Instructors
: Anita and Roger Palmer, GISetc.